Nature is Waiting

Fjallraven: Backpacks, Totes, Outdoor Jackets & Pants
Show less...
Founded on the idea that camping packs should be durable and wearable, Fjallraven was born to fulfill a need for high-quality hardworking outdoor equipment. As a child, founder Ake Nordin loved spending time outdoors, but struggled with his backpacking equipment. His pack wasn't structured enough to be worn comfortably, so he redesigned it. After military service and years of product testing, Ake opened a shop above his family's flat and called his new company Fjallraven, which means "Arctic Fox".

From humble beginnings, Fjallraven has grown to be the biggest outdoor apparel company in Scandinavia and loved by all Swedes for their quality construction, simple clean lines, and classic designs. Fjallraven backpacks, clothing, and outdoor equipment are all made using the highest production standards. They continually strive to expertly equip people for adventure, even in the modern world. Many Fjallraven fabrics are specially waxed and crafted to hold their own in both outdoor and urban life. While other companies are looking for the next best thing, Fjallraven sticks with what works - durable materials, quality construction, and classic design. At OutlandUSA.com we love the durability of Fjallraven apparel and packs, their company mission, and the way they do business.

Fjallraven always strives to get their customers outside while also remaining aware of their environmental footprint, making them one of the most conscious, well made, and fashionable companies in the outdoor industry right now. If you have any questions about Fjallraven bags, the "waxed" fabrics, or about a specific item, feel free to reach out to us and check out.
Fjallraven, Easy to Love - Hard to Say!
Fjallraven is a brand that is easy to love, but can be hard to pronounce. This video introduces the brand, shares a little history and most importantly finally answers the question of how do you say Fjallraven correctly!
Questions & Tips
Q: What is G-1000 Fabric and what does it do?

The densely woven fabric (65% polyester and 35% cotton of the highest quality) is treated with Greenland Wax. This combination makes G-1000 one of the world's best outdoor fabrics that offers both breath-ability and weather resistance.
Q: Do you have a sizing chart for Backpacks and Apparel?

Yes, we have sizing charts on the next tab ("Sizing") as well as specific sizing information on each product page.
Q: Can I wax my Kanken?

No. Kanken backpacks are not made of the waxable G-1000 fabric. They are made with Vinylon F, which we do not advise waxing.
Q: How do I clean my Kanken?

Avoid machine washing your Kanken. Machine washing would remove the water resistance! Instead, you should hand wash your Kanken with lukewarm water and a soft brush.
Sizing:
Fjallraven manufactures a large line of products ranging from hiking bags to winter parkas. For adult apparel sizing, see the sizing charts below. For bag sizing, see the dimensions listed on the product page of the bag. We created a video discussing the differences between Fjallraven hiking bags and day packs, if you're trying to find the best pack for your lifestyle. If you have any additional questions, please email us at CS@OutlandUSA.com and we will get back to you as soon as possible.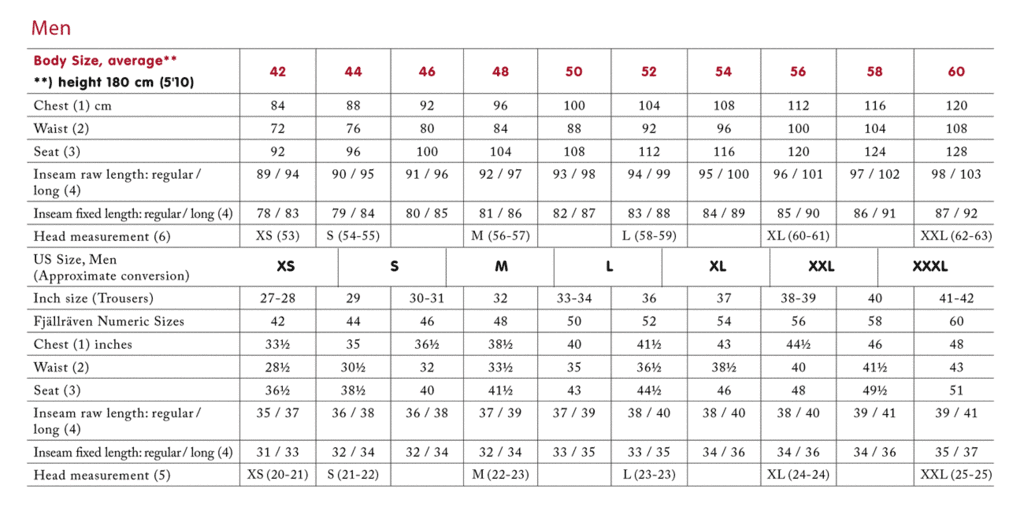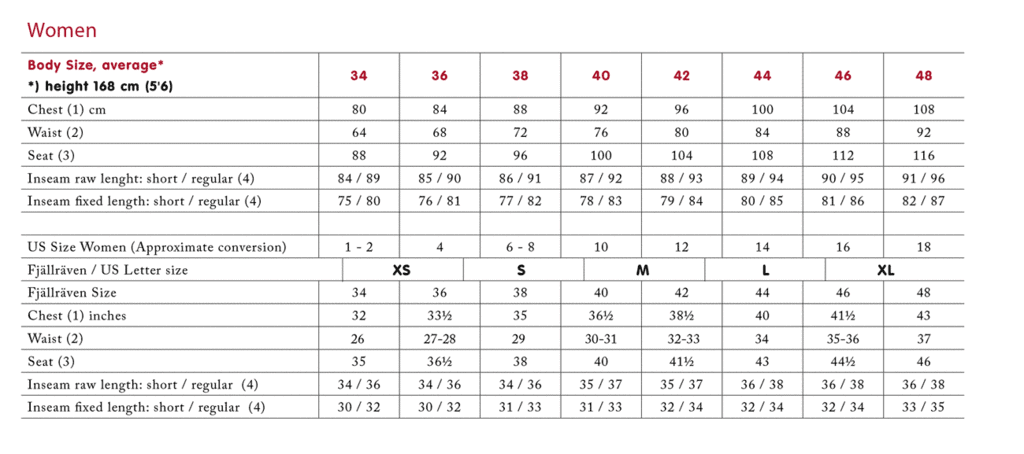 Fjallraven Warranty Information
For non-warranty exchanges and returns, please see our policy here.
If you believe you have a warranty claim, please reach out to us directly here.
Fjällräven is committed to maintaining our tradition of delivering practical, yet superior products that are designed for a lifetime of wear. Fjällräven provides a Limited Lifetime Warranty to original purchasers of Fjällräven products who have a receipt of proof of purchase from an authorized seller.
Fjällrävens Limited Lifetime Warranty extends only to products purchased from authorized sellers that are subject to and comply with Fjällrävens quality controls. Because Fjällräven is unable to oversee or control the quality of its products sold by unauthorized sellers, Fjällrävens Limited Lifetime Warranty is not valid on products purchased from unauthorized sellers or on products that were purchased used. OutlandUSA.com is an authorized seller.
Fjällräven has the authority to determine that if the cost of the repair exceeds a reasonable amount a replacement product will be issued in lieu of a repair. We do not perform non-warranty related repairs or alterations. If your garment has a manufacturing defect please contact customer service. The average turnaround time for a repair is approximately three to four weeks. In order to adhere to government regulations all items are required to be cleaned prior to being returned for repair.
MANUFACTURING DEFECTS
The following variables are considered to be manufacturing defects and are covered under the Fjällräven Limited Lifetime Warranty:
- Split seams
- Broken snaps and/or buttons
- Broken zippers
- Broken buckles
ACCIDENTAL DAMAGE
The following variables are considered accidental damage control also known as normal wear and tear and are not covered under the Fjällräven Limited Lifetime Warranty:
- Stains
- Fading and/or discoloration due to improper care, waxing and/or excessive sun exposure
- Melted zippers, fabric and/or faux fur
- Rips, tears and/or cuts
- Fabric abrasion and/or fabric pilling