Waterproof, Insulated, Breathable
DexShell: Thermal, Breathable, Waterproof Socks for Men & Women
Show less...
Looking for the best pair of socks
to seamlessly transition from everyday work to cycling or hiking? Dexshell has you covered. Their products showcase the ultimate innovation in comfort, odor prevention, and waterproof technology - plus they are very stylish! They come in a wide range of colors from basic black to bright orange. When recently tested against leading rivals, Dexshell products came out 30% more efficient on overall performance. They can effectively defy the cold, the wet, the dry, as well as the heat. They protect as reliably as they perform and are proven to be the best in the market!
OutlandUSA.com loves Dexshell because they continually produce impressive knitted goods that are breathable and yet waterproof. Dexshell makes fantastic socks, gloves, and hats for warm or cool weather. Their three layer technology contributes to the overall feel, breath-ability, and function of their goods. Part of the success of the three layer technology is the material, PORELLE. Read more about PORELLE in our FAQs tab!
See all of Dexshells top features and uses below.

Features:
High Visibility Accents Increase Visibility & Safety
Odor Resistant
Ultra Light Weight
Waterproof
Highly Breathable
Close Fitting
Seamless Knitted Construction
Highly Flexible
Comes in Multiple Lengths, Sizes & Colors
Uses:
Running
Cycling
Birding
Walking
Golfing ( especially in early morning dew! )
Sailing
Canoeing
Kayaking
Travel
Everyday Use
iPhone Survives a Dunk in Water with a Dexshell Sock
It's easy to talk about how waterproof Dexshell products are, but harder to show just how dry they keep you.
We decided to demonstrate just how waterproof these socks are by placing a working iPhone in a Dexshell Thermlite sock, and submerging it into water...watch to see how if it survives.
Questions & Tips
Q: How are Dexshell products both breathable and waterproof?

All Dexshell products are manufactured with PORELLE 'waterproof, breathable' membranes which is manufactured in the UK. The PORELLE membrane is a thin, strong, flexible layer between each of our products in the '3 layer construction'. PORELLE does not allow one water droplet to pass through (meaning it's totally waterproof), but it also allows breath-ability at high temperatures. In short, the humidity inside our socks, gloves and hats is released but water is not allows to come inside, similarly to cell osmosis.

Watch our Dexshell video to show how waterproof they really are!
Q: How does the Porelle technology work?

There are three layers in Dexshell product construction: Outer. middle, and inner.

The durable outer shell deflects wind and water molecules. The PORELLE middle membrane is specially engineered to allow sweat-based vapor molecules to escape while preventing larger water molecules to enter. Last but not least, the breathable inner layer is both highly insulating and highly breathable, allowing sweat-based vapor molecules to escape while maintaining a balanced temperature for the wearer.

Q: Will Dexshell products keep me warm as well as waterproof?

Yes! Dexshell products are listed with a thermal rating of between 1 and 5, with 5 having the most thermal insulation. The 3 layer construction used on their socks, hats, and gloves keep them warmer and more insulating. The windproof and waterproof PORELLE membrane also helps to repel the elements and keep you warm.
Q: Will my Dexshell gloves and socks ever let water in?

Yes, they can allow water in if the water level is above the top of the glove or sock. This can also happen if the membrane is damaged or the wearer is experiencing extreme conditions (including deep water or snow). This can be avoided, by purchasing products which state 'in cuff seal,' meaning, they will stop any water from leaking over the top of the sock or inside the glove. Also, Dexshell suggests tucking socks and gloves under garments as it can cause the water to run down the clothing into the socks or gloves.
Q: How do I measure my glove size?

DexShell waterproof knit gloves are available in four sizes. A method for you to find the perfect glove size for you would be to measure around the knuckles of your dominant hand in cm. For example, if you measure between 23-25 cm the medium glove would be the best. However, no two hands are alike and finger length relative to palm size ranges from person to person. If you feel like you're in between sizes, size up. See more information in the sizing tab.
Sizing:
SOCKS: Dexshell sizing is unisex so be aware of that when picking our your Dexshell gloves, socks, or hats. See sizing chart below to compare Dexshell's centimeter measurements to US Women's and Men's shoe sizes.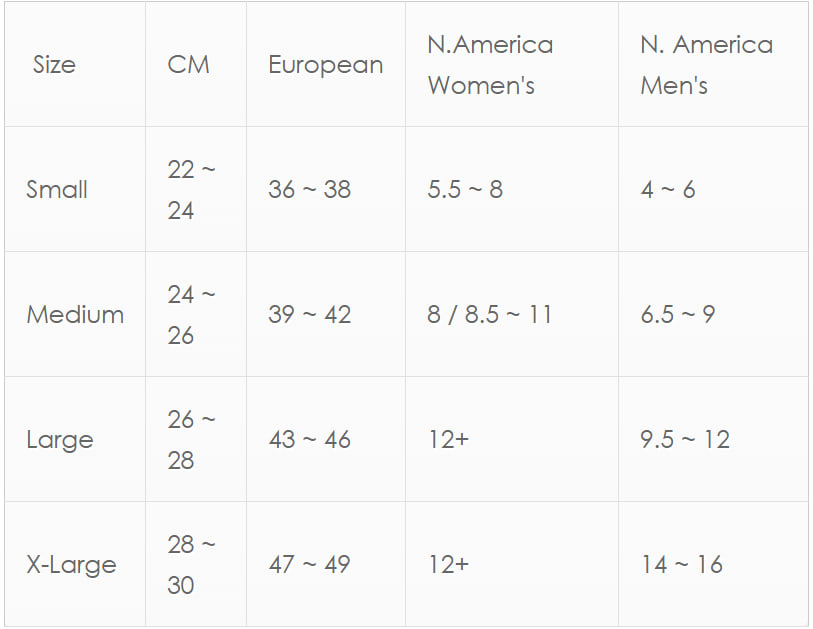 GLOVES: To calculate your glove size, you should measure the dominant knuckle in cm. If you measure between 23-25 cm the medium glove would be the best. Keep in mind, finger length relative to palm size ranges from person to person. If you feel like you're in-between sizes, size up!