Rise Ready for Adventure
Western Mountaineering: Sleeping Bags made with Goose Down & Gore Windstopper Fabric
Show less...
If you're not familiar with Western Mountaineering, they have a worldwide reputation for making the best sleeping bags. Using premium, ethically sourced goose down that keeps you warm and dry all night long, Western Mountaineering bags are a longtime favorite among serious backpackers and climbers for many reasons. They are extremely comfortable, warm, lightweight, compressible and still made USA. In a world where most outdoor gear is mass produced overseas, their handmade reputation stands out from their competitors.
Founded forty-five years ago by two northern California mountaineers, Western Mountaineering grew from a passion for the outdoors and a vision for excellence. Gary Schaezlein and Jeff Jones built a company that continually sources the finest raw materials and keeps with the tradition of meticulous construction and unsurpassed workmanship, making their bags 100% worth the investment. Today, Western Mountaineering remains a small independent company that is still producing the highest quality down sleeping bags and apparel in their San Jose, CA factory. A label sewn inside of each sleeping bag has two signatures from the artisans who created the bag, showcasing the quality and care that was put into making each bag.
Western Mountaineering produces over thirty different styles of sleeping bags and are committed to making a bag for everyone. Depending on your body size, how you sleep, and what temperate you'll be adventuring in, they produce a bag for you. Having questions about which bag is right for you? Contact us to help you find a bag that is perfect for your next adventure! We carry all thirty styles of Western Mountaineering bags, and we've heard nothing but positives from our customers! These bags last for years if taken care of and if you are wondering about care, see FAQs below. Some of our favorites at Outland USA are the Alpinlite, a wide version of the award winning Ultralite, and the Versilite, the warmest in the ExtremeLite series!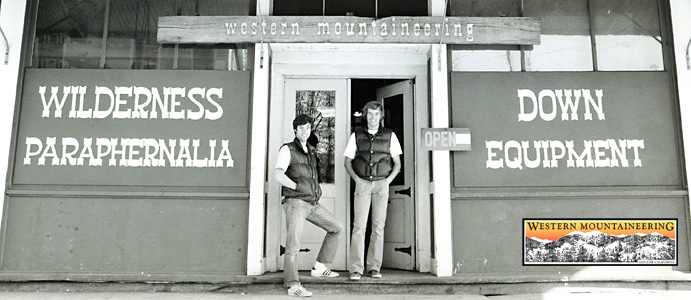 Questions & Tips
Q: How should I store my bag when I am not using it?

To store your bag, use a large breathable storage sack - Do not leave it stuffed in its stuff sack or in a plastic bag for long periods of time. Air dry your bag in the sun or in a tumble dryer before storing it to make sure there is no moisture in the bag.
Q: How do I clean my bag?

There are many ways to clean your Western Mountaineering bag. We recommend using a bag liner to prevent the need to wash your bag as often, but when necessary you can also hand wash your bag.

WASHING: This is most easily done is to hand wash it inside of the stuff sack. Keep your bag in its stuff sack and put the whole thing underwater (in your tub or sink) - Only use a soap especially prepared for down products! Carefully pull the bag from its stuff sack and gently knead the soapy water through the bag. By putting in in the stuff sack first removes a lot of air (in the bag) and allows for an easier, faster cleaning.

It may be necessary to change the soapy water more than once, but dont over do it. When you are satisfied that your bag is clean be prepared to rinse it with clear water 3-5 times. All of the soap needs to be removed from the down before it is dried. If in doubt rinse again; 6+ rinses are not uncommon. Do not wring water from your sleeping bag, instead drain the tub and then roll the bag up tightly and carefully to remove all of the water. Use both hands (and caution) when picking the sleeping bag up, as it may be heavy from any water still trapped inside the baffle chambers. You can also use your washing machines spin cycle to remove more water and save dryer time. Please note: run your hand inside your washer to ensure you do not have any burrs or places the bag could get caught or tear on.


DRYING: Use a large dryer with good heat control, and set to low heat (or no heat). Be sure there are no nicks, burrs, or other sharp items inside the dryer that may damage the shell fabric on your bag. After a few minutes of drying, check for hot spots on the dryer drum that could melt the nylon shell. If you feel one side is warmer than the other or heating up too much, use the no heat setting. A couple of clean tennis balls tossed in with the bag will help break up clumps of down and help dry it more evenly. Please note: Don't just tumble your bag till it feels dry, that may not be enough. Carefully feel the down insulation. If you still feel lumps, no matter how small, then your down is still wet! Break a twenty and add more quarters. It may take two or more hours depending on your bag, but you will have a clean sleeping bag back to its original loft. Please note:Dry cleaning is not recommended since the solvents can strip away natural oils contained in the down.
Q: I need a lot of wiggle room in my sleeping bag, which bag should I choose?

Wide cut semi-rectangular bags are for people who don't worry about counting ounces but want lots of room to move around. These bags are named after North American forest trees and some feature hoods. See the Sycamore and Sequoia bags and our other FAQs for more explanation on which bag is best for you!
Q: What is Microlite XP Microfiber?

Western Mountaineering's new 20 Denier MicroLite XP microfiber reduces the total weights of the bags in this series by 15 to 20 percent! It is the highest thread count fabric used with over 400 threads per square inch at Western Mountaineering. They have, with their supplier, developed this new fabric which is highly water resistant, highly breathable, and very light weight. Its hard to imagine a more impressive combination of performance characteristics in a shell fabric! These bags will be designated with a "MF" in the title such as the Sequoia MF.
Q: What does ethically sourced goose down mean?

The goose down used in Western Mountaineering sleeping bags and clothing is sourced from a mother goose farm in Eastern Europe. This means geese don't live their life in confinement and the plumage is gathered from their nesting area. This results in better quality down and ensures the welfare of the geese.
Q: What does the 850+ Plus Fill Power rating mean?

Fill power is basically a measurement of loft. The higher the fill power number, the higher quality the down is and the less amount of down it takes to fill up your bag. Fill power numbers range between 500 and 900. The same rated sleeping bag, example: 15 - 20 degrees, with a lower Fill power count are more cost effective, but heavier and less warm. The higher the Fill power number, the better quality materials and the warmer the bag will be.
Western Mountaineering uses the highest lofting premium goose down available for their sleeping bags. Their "fill power" claim of 850 Plus is meant to be a realistic estimate given the variability of the product and the nature of fill power test methods. In reality, their certified tests most often are higher than what they claim. This is because the certified test methods provide the most optimistic fill power rating and do not represent what is being put into each sleeping bag.

Recently, these testing methods for fill power changed again making the fill power ratings even higher. Now, each sample of down will receive a tumble dry at Western Mountaineering before it is given several days to loft up in a perfectly controlled environment. During that time it is enhanced by using a blow dryer to boost loft. Your sleeping bag will never receive that kind of treatment, and this is why they claim a more practical fill power. Plus they use only the finest goose down available!


Q: Does water repellent down technology work? Do you treat your down?

In recent years technology has emerged for treating down to make it more water resistant than it already is. Western Mountaineering is in the process of conducting their own long term testing on goose down which has been treated with a water repellent finish. While they remain hopeful that the technology will prove to be useful, their products are designed to last a long time. For this reason, further testing is needed before they can determine how these treatments perform over many years or decades.

The down Western Mountaineering uses can last a quarter or a half century, and at this point there isn't a product which can match the amazing longevity and performance of our pure and naturally harvested goose down.

Warranty:
All Western Mountaineering products are guaranteed against manufacturers defects for an unlimited time. Should a product fail due to a defect in materials or craftsmanship, they will, at their option, repair or replace the item at no cost to the original owner. They will make the determination of what will be covered under warranty at the time that they inspect the product. This guarantee does not cover normal wear and tear, misuse, or improper laundering. This guarantee does not cover accidental punctures, tears, rips, burn holes, damage by rodents, or deterioration of the materials caused by excessive sunlight exposure, mold or chemicals. They will not repair a product if we determine that it isn't clean. They will ONLY repair sleeping bags that have been thoroughly laundered or are otherwise received in very clean condition.
Please note: Heavily soiled or dirty sleeping bags will not be accepted for repair.